Politics and Insights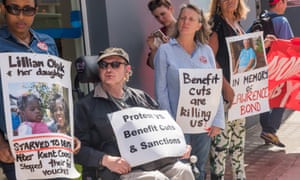 The Work and Pensions Committee has published a report this month regarding the findings of an ongoing inquiry into welfare conditionality and sanctions. 
The Committee says in the report:"Of all the evidence we received, none was more compelling than that against the imposition of conditionality and sanctions on people with a disability or health condition. It does not work.
"Worse, it is harmful and counterproductive. We recommend that the Government immediately stop imposing conditionality and sanctions on anyone found to have limited capability for work, or who presents a valid doctor's note (Fit Note) stating that they are unable to work, including those who present such a note while waiting for a Work Capability Assessment. Instead, it should work with experts to develop a programme of voluntary employment support." 
The report concludes that "The human cost of continuing to apply the existing regime of benefit sanctions – the 'only…
View original post 1,000 more words